About Us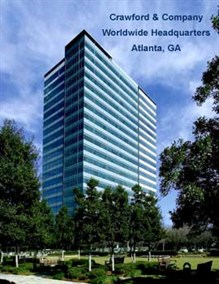 Based in Atlanta, Crawford & Company (NYSE: CRD-A and CRD-B) is the world's largest publicly listed independent provider of claims management solutions to insurance companies and self-insured entities with an expansive global network serving clients in more than 70 countries. The Crawford Solution® offers comprehensive, integrated claims services, business process outsourcing and consulting services for major product lines including property and casualty claims management, workers compensation claims and medical management, and legal settlement administration.
In the UK, Crawford operates through 27 offices all with the professional experience and technical expertise to manage claims from start to finish. We enhance our clients' reputations alongside our own by providing transparency of performance; outstanding customer service and controlling indemnity spend.
We are a strong, safe and regulated organisation with an established and experienced management team and our clients can feel confident that we will work with them in pursuit of customer service excellence.
To find out more about us, please contact us on information@crawco.co.uk.
Crawford & Company Adjusters (UK) Limited
Registered Number: 2908444
Registered Office:70 Mark Lane, London EC3R 7NQ